Welcome to Paradise: New and Selected Poems by Bill Wunder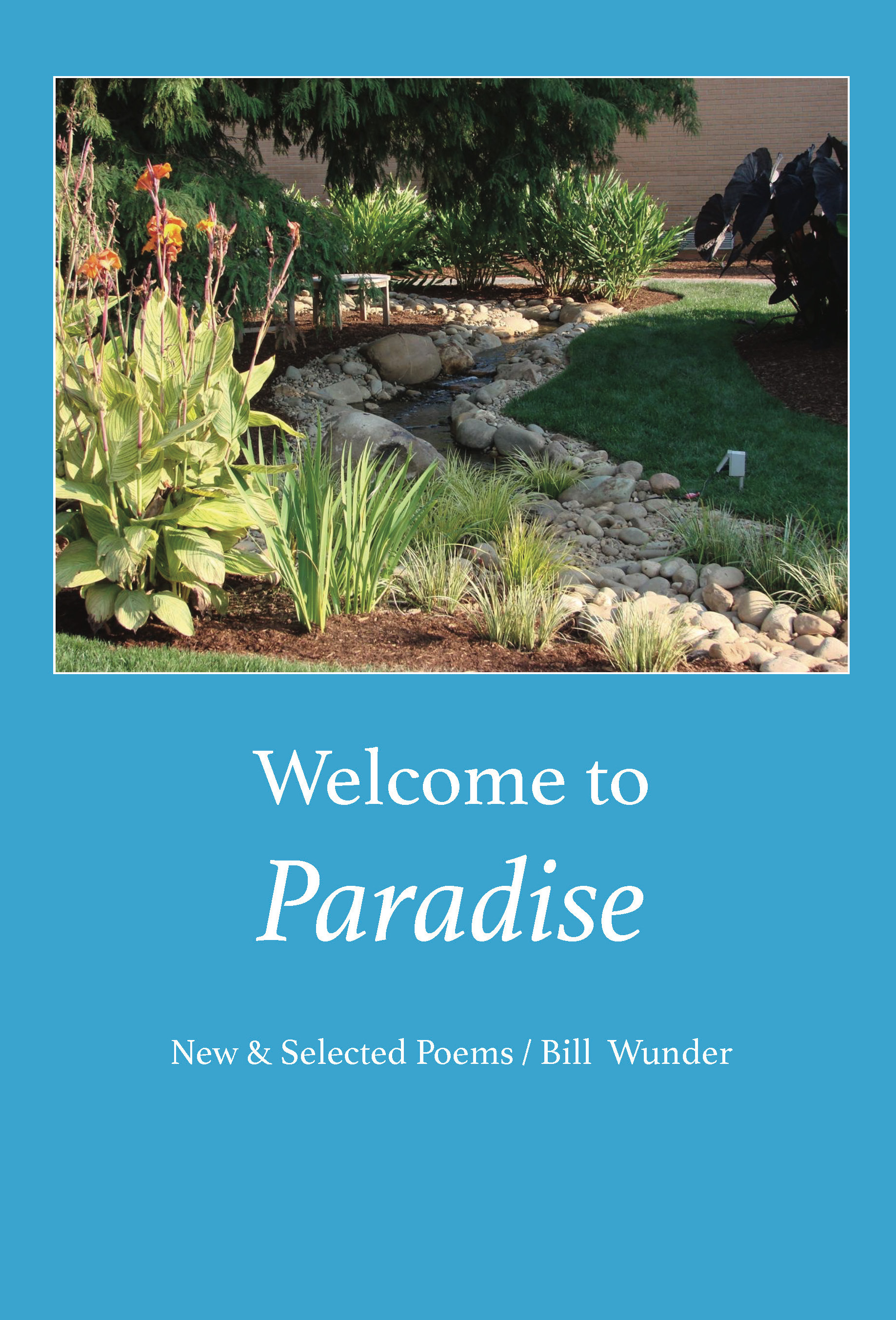 Bill Wunder's Welcome to Paradise is a welcoming book indeed; the reader is treated to a tour of Wunder's previous work, and builds to the spare, sinuous lines of his new poems. Paradise is both lovely and dangerous, and that tension is at the heart of Wunder's work, old and new.
"Welcome to Paradise, Bill Wunder's grand new collection, is a reminder that, no matter how seemingly perfect a paradise might be, there is always a snake in the garden. Take 'On Becoming a Septuagenarian,' a poem that is really a retrospective of the poet's life, from his birth in 1949 through the decades following and ending with his being invited to lie down under a stand of maples and Spend the night, the maples promising, the sky will be full of stars. Stars, yes. But there are also those pesky super novae. In other words, there are cosmic snakes, too. Welcome to the paradox that is Paradise."-George Drew, author of Drumming Armageddon
"Welcome to Paradise is a best-of Bill Wunder and then some. This collection includes a trove of gems from the poet's previous books, notably the Vietnam War poems and Bible poems, and gifts us with new poems that celebrate the green Earth, the cold bright cosmos, and, warmly and lovingly, the poet's father. Especially striking are the new poems about illness and disability-'Adversarial Relationship' and 'Dear Parkinson's.' Wunder's contemplative and image-rich lyrics look into the depths of experience and reflect on it, sometimes with ferocity, sometimes with quiet awe. These are poems of a good heart. Savor them."-Lynn Levin, author of The Minor Virtues
Praise for Pointing at the Moon
"It's uncanny how much our present concerns are illuminated by these poems-or not so much uncanny as a tribute to Bill Wunder's sensitivity and craft. Everything's vivid; nothing is shrill. With a keen eye for detail, and a profound insight into character, Wunder gives us a book that is breathtaking, cinematic, heartbreaking, and above all affirming of the human spirit in its matchup against chaos and chance."- Betsy Sholl, Author of Late Psalm and Former Poet Laureate of Maine
Praise for Hands Turning the Earth
"Beauty in her many incarnations, visits Hands Turning the Earth, the latest book by Bill Wunder, Vietnam Vet, cancer survivor, and intrepid soul. Wunder's poetry covers so much territory: war and weather, illness and love's challenges, Cam Ranh Bay and Searsburg Mountain, a 'gratuity of color, a sudden ruckus of forsythia.' It explores the meteorology and geology of loss, yet I know of no book as healthy as this one. It trusts language and language trusts it. We feel Keats's healthy presence too, from the book's very beginning: 'Almost nightfall/and still caroling, one/ small bird beseeching a mate/ as if it's aware/the world depends on song.'"-Christopher Bursk, author of With Aeneas in a Time of Plague
Bill Wunder is a poet, editor and the author of four volumes of poetry. His newest is Welcome to Paradise, New and Selected Poems from WordTech Editions, Cincinnati, Ohio. He is a past Poet Laureate of Bucks County, Pennsylvania and a two-time nominee for the Pushcart Prize. His poems have appeared in The Manhattan Review, Paterson Literary Review, Comstock Review, Blueline, Innisfree Poetry Journal, Philadelphia Poets, Mad Poets Review, Revue LISA and many others. Bill is a Vietnam veteran and lives with his wife and two twin Labrador retrievers in the wilds of Bucks County, Pa.
ISBN-13: 978-1625494016, 140 pages, $20