Co-Winner of the 2003 Yellowglen Prize: The Angle of Sharpest Ascending by Ingrid Wendt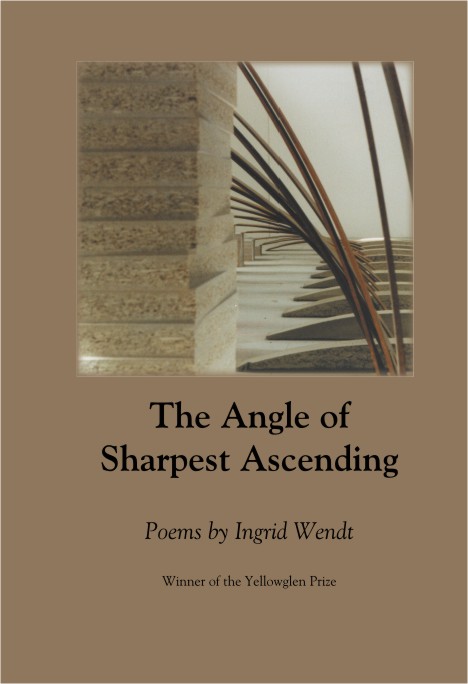 The Angle of Sharpest Ascending, co-winner of the Yellowglen Prize, is a haunting suite of poetic sequences about the German dimension of World War II and the ways it touches our modern experience. As Ingrid Wendt writes in the book's preface, "I also believe in the importance--for the future safety of our country, our world--of trying to understand how perpetrators of violence can do violence to themselves, can be victims of wrong teaching, of mass hysteria, of propaganda. To recognize that evil can be taught." These masterful poems--a number which take the form of an artistic collaboration with the photographer Ingeborg Kolar, the painter Traude Linhardt, and the sculptor Susi Rosenberg--touch on essential questions of memory, responsibility, and healing.

Ingrid Wendt, whose parents were each raised in German-speaking families in Valparaiso, Chile, and on a farm in southwest Michigan, spent the year 1994-1995 as a Senior Fulbright Professor in Frankfurt am Main, Germany. She has won the Oregon Book Award in Poetry with Singing the Mozart Requiem, the Carolyn Kizer award from Calapooya Collage, and the D.H. Lawrence Award. Her other books include Moving the House (poetry); From Here We Speak: An Anthology of Oregon Poetry; In Her Own Image: Women Working in the Arts; and Starting with Little Things: A Guide to Writing Poetry in the Classroom. She conducts poetry workshops and residencies in public schools and universities throughout the United States, most recently with the faculty of the MFA program at Antioch University, Los Angeles. She lives in Eugene, Oregon, with her husband, poet and writer Ralph Salisbury.
Praise for Ingrid Wendt's work
"The lyric power of these poems leave the reader swimming with resonance, lost in the amphitheater between thought and image, identification and word. The poems capture vividly what it is to exist between languages, and yet in language. I read it in one draught, throbbed by its vigor."--Olga Broumas
"Wendt is a frank, fearless and compassionate cartographer, surveying the bits and shreds of the century's moral rubble, taking bearings. These poems, shaped by tender and exacting labor, have the heft of hewn stone and the lift of blown glass."--Marilyn Krysl
ISBN 1-932339-04-3, 112 pages, $16.00