Old Poets, Poems by Michael Skau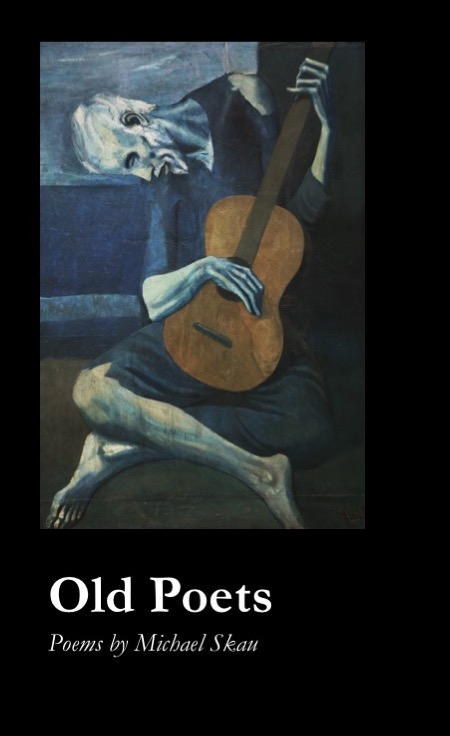 Old Poets, by Michael Skau, is a series of poems reflecting specific attitudes toward poets and poetry (by extension, toward Art and Life), ranging from conventional adherence to structure, rhyme, meter, and theme to enthusiastic embrace of experimental techniques and topics. The poems embody different voices and approaches and vary in their form from traditional modes to rebellious non-conformity.
"Upon first reading Michael Skau's Old Poets, one gets the feeling of touring Madame Tussauds museum of poetries, each page presenting us with a new wax figure speaking its aesthetic. But to reread Skau's new collection of poems is to discover that it is far more than a sequence of personas. Reader, you hold in your hand a compendium, a vade mecum of stances and attitudes, and unifying them are what one would expect of a new Skau book: his inimitable craft, his insight and, above all, his double-edged wit."–Miles Waggener
"The poems in Old Poets trace a path through the art and history of poetry, delving into different styles and voices with humor and insight. Michael Skau reflects on the various reasons poets create with intense images like 'my poems are teeth / that chew ideas' and the persona who says writing is 'to tame / those babbling words, shrill and wild as ever.' In this book, the reader explores with the author the reasons why poetry has mattered, does matter, and will continue to matter."–Cat Dixon
"Michael Skau is a master of poetic language, and his Old Poets is true to form. In this fierce and funny collection, the poems seek to tame madness and to win love, "growing to love only the poetry, caressing the words," as they cover the basics on form (free verse, children's verse), craft (imagery), technique (automatic), and revision (drafts, workshops). Witty and smart the poems instruct, help, and encourage young poets who write in free verse to "know the nature of what they rebel against." With fierce metaphor, Old Poets exposes the real life of the poetry world, from drunken poesy imbibing that lands a poet in jail in "Free Verse!" to the "Poetasters" who don't even know the pleasure of form and structure. If Old Poets admits being "guilty of masquerade as all the rest" and "manipulating mere and mirror irritations," it assures a loyal love of red wheelbarrows and midnights dark and dreary. Entertaining and wise, Old Poets is the best kind of company, edifying and full-bellied laughing."–Laura Madeline Wiseman
Cover painting: Pablo Picasso–The Old Guitarist (1903-04), The Art Institute of Chicago.