The Awkward Poses of Others,

Poems by Robert E. Wood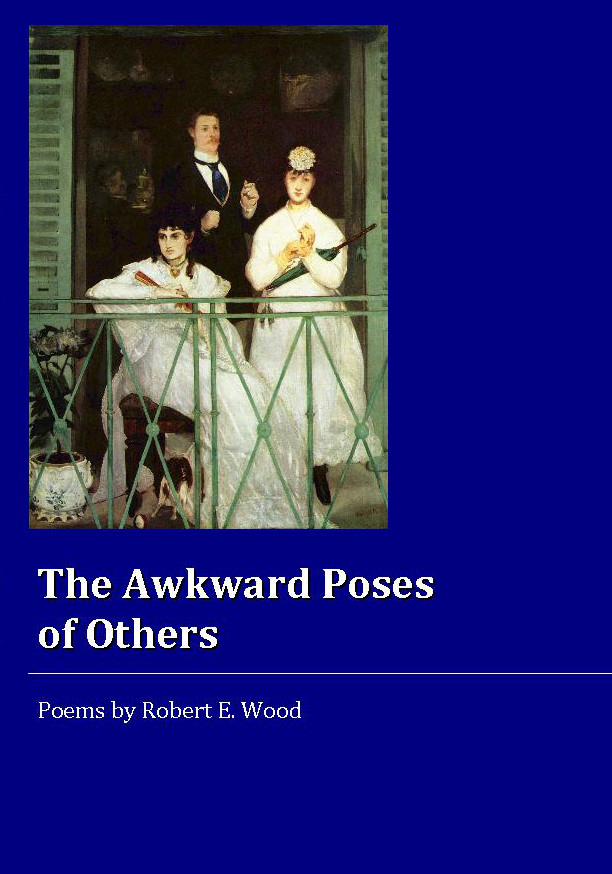 The life of art, and the art of life: these two poles stand intertwined and in tension in Robert E. Wood's
The Awkward Poses of Others,
holding a taut energy in repose.
Sample Poems by Robert E. Wood
"The poems in Robert Wood's latest collection, The Awkward Poses of Others, open the reader to altered worlds – the fragile moments of paintings, the longed-for darkness of movie theaters. Wood's writing is always sharp, giving an inside view to full-bodied vistas of paint and film – from Hopper to Kahlo to Hiroshige, from King Kong to noir to French New Wave. These are beautiful poems, exacting and fresh, moving well beyond reflective compendiums to a deeper understanding of how to live a life. 'It starts with a piece of paper,' Wood writes, and we keep reading."--Sam Rasnake
"We enter, via each of the poems in Robert Wood's striking new collection, a painting or photograph or film, each a world unto itself and, moving from poem to poem, another world unfolding, and another. By turns ominous and luminous and sometimes both at once, these painterly and precisely crafted poems offer us the mystery of the visible, a kind of haunting of the eyes."--Cecilia Woloch
"Robert E Wood's The Awkward Poses of Others provides a poetic exploration of the artworks that have shaped him. Through a series of exquisitely crafted personal reflections on the meanings and varieties of art, Wood takes the reader from European modernists, to Japanese masters, to the United States of Hopper and Hollywood. Equal parts tour de force and Grand Tour, The Awkward Poses of Others offers a wonderfully observant and deeply insightful journey through time, beauty and the images we hold dear." --Tammy Ho Lai-Ming
Robert E. Wood teaches in the School of Literature, Media, and Communication at Georgia Tech. His poetry has appeared in Quiddity, The Chattahoochee Review, Southern Humanities Review, South Carolina Review. Jabberwock Review, Prairie Schooner, NDQ: North Dakota Quarterly, Harpur Palate and other journals, as well as in Bigger Than They Appear: Anthology of Very Short Poems (Accents Publishing). His chapbooks, Gorizia Notebook and Sleight of Hand were published by Finishing Line Press. His film studies include essays on Fosse, DePalma, and Verhoeven, as well as The Rocky Horror Picture Show. He is the author of Some Necessary Questions of the Play: A Stage-Centered Analysis of Shakespeare's 'Hamlet' (Bucknell University Press, 1994).
ISBN 978-1625490230, 106 pages, $19.00