Corncurls for the Medulla Oblongata, Poems by Tim Leach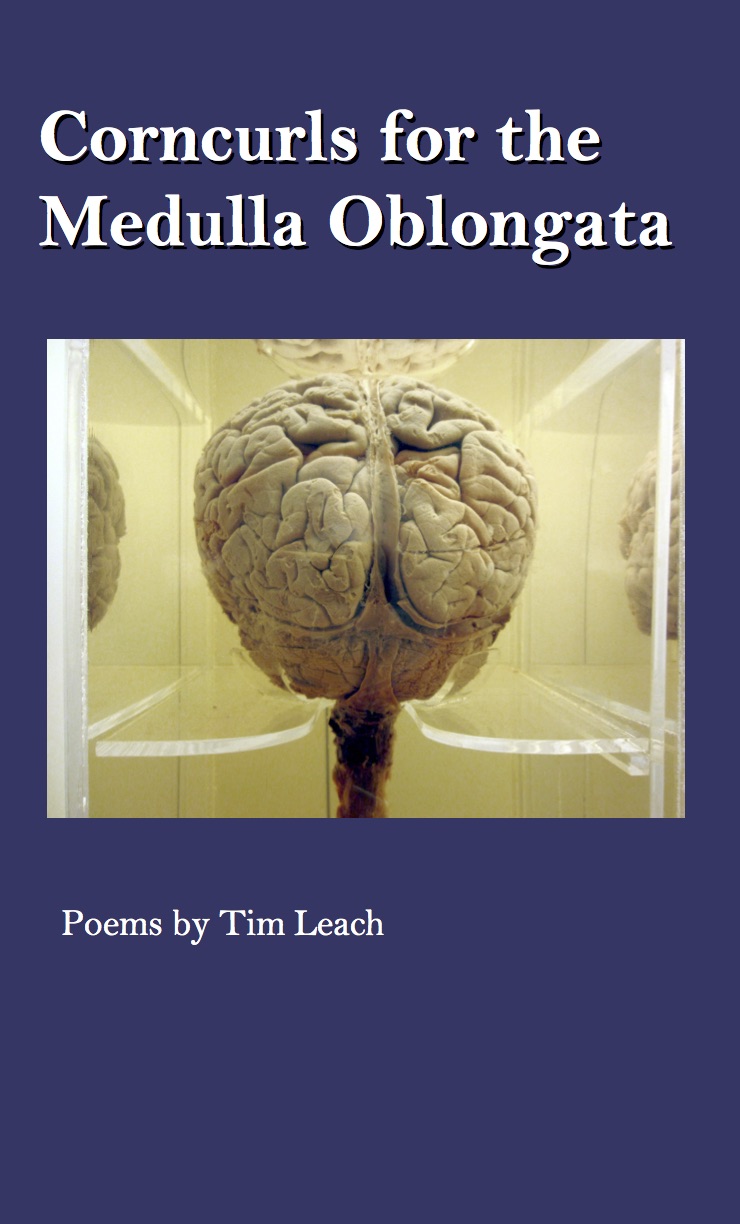 The brief poems of Tim Leach's Corncurls for the Medulla Oblongata are full of pith and vinegar, the snap of sharp wit thrown off by their taut, energetic lines.
"Tim Leach is back again and up to his old antics in this new collection, his strongest yet. Look for his subtle dark humor and caustic hope if you dare. You will be blown away by the tectonic vowels and awe-inspiring alliteration. You will read this one quickly and love it." -Matthew Freeman
"Hold on to your skirts, grammarians, here are some tidy visualizations of those pesky punctuation marks paired with poems possessing bon mots of wisdom cloaked in audacious puns. Don't groan before you say to yourself, 'So true. So true.' It's fun." -Paul Thiel
Tim Leach has been covertly obsessed with writing poetry since age 12, and 30-plus years as a journalist-Globe-Democrat, National Enquirer, Australia's People Magazine with contributions to St. Louis Magazine, Ladue News, many trade and professional publications, and Post-Dispatch op-ed pieces, plus hard time in public relations and advertising as a writer for all media-all has honed his writing skills in his current poetry. Primarily, since four years when he went public with his obsession with coaxing and tutelage of Pam Garvey and Catherine Rankovic, his work has appeared in: The Big Muddy, Southern Poetry Review, Natural Bridge, Sou'wester, Literati Internationale, Kaleidoscope, Epicenter and Pegasus, and New Millennium after honorable mention in its annual poetry competition. Tim acted on the Golden Rod Showboat 8 years, is a Vietnam veteran, lived as a journalist in Australia two years with his long-suffering, saintly wife, JoAnne, and dabbles in creating what he calls trash art and photography. He describes his poetry as "dense, intense narrative reflection on an idiosyncratic life of misspent youth and lethargic middle age, with many regrets but little self-pity."
ISBN: 978-1625491558, 48 pages, $16.00