Monsoon Solo, Poems by Gretl Claggett
Sample Poems by Gretl Claggett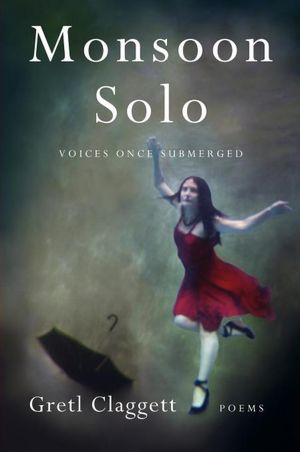 The poems of Gretl Claggett's Monsoon Solo are taut in their lines, holding the writer in an unrelenting grip until their sharpness pierces the mind.
"Gretl Claggett writes very exact and graceful poems that explore the dark corners of life. This is not nice poetry. It's powerful work that sticks in the head long after reading." - Stephen Dobyns
"Searing stuff. The poet's people are identified at defining times of their lives. Monsoon Solo is a real page-turner. The reader has to know what happens next in these vivid dramas." - Robert Minhinnick
"With a rare combination of boldness and grace, Gretl Claggett writes her luminous poems. Her uncanny emotional intelligence and unerring sense of drama guide her lines toward metaphorical richness and psychological revelation. For those of us who turn to poetry for the startling surprise, for the luxury of image, for a whole landscape in a handful of lines, Claggett is the poet to read and cherish." - Molly Peacock
"Gretl Claggett's poems are at once drawn irresistibly to the human world-to its ardors and longings, its terrible accidents and violence-and shocked and stunned by it. The fullness of their moral power stems from the ability this poet has to stand at the center of exquisite, dangerous tension and not turn away, not draw back in fear, not flinch." - Vijay Seshadri
"The poems in this collection are brave, strong and beautifully crafted. Gretl Claggett has an eye for the resonant, suggestive image and a rare ability to tell a story in lines. There's a rightness of both rhythm and tone that's imperative to these searing poems, with their mordant wit and wisdom, their inward and outward transformation. Monsoon Solo will capture an audience that likes its poetry Gretl Claggett is a writer, speaker, teacher, business consultant and activist with a mission to help others create more authentic lives-personally and professionally. She grew up in Hannibal, Missouri, Mark Twain's boyhood home, and moved to Manhattan more than twenty years ago. After an acting career On- and Off-Broadway, then a stint as a video and events producer, she spent a decade working as a professional saleswoman. Gretl holds an MFA in acting from Western Illinois University, an MFA in poetry from Sarah Lawrence College and an MFA in creative nonfiction from Goucher College. Please visit her at: www.gretlclaggett.com.
ISBN: 978-1936370559, 84 pages, $18.00