Words Facing East, Poems by Kimberly L. Becker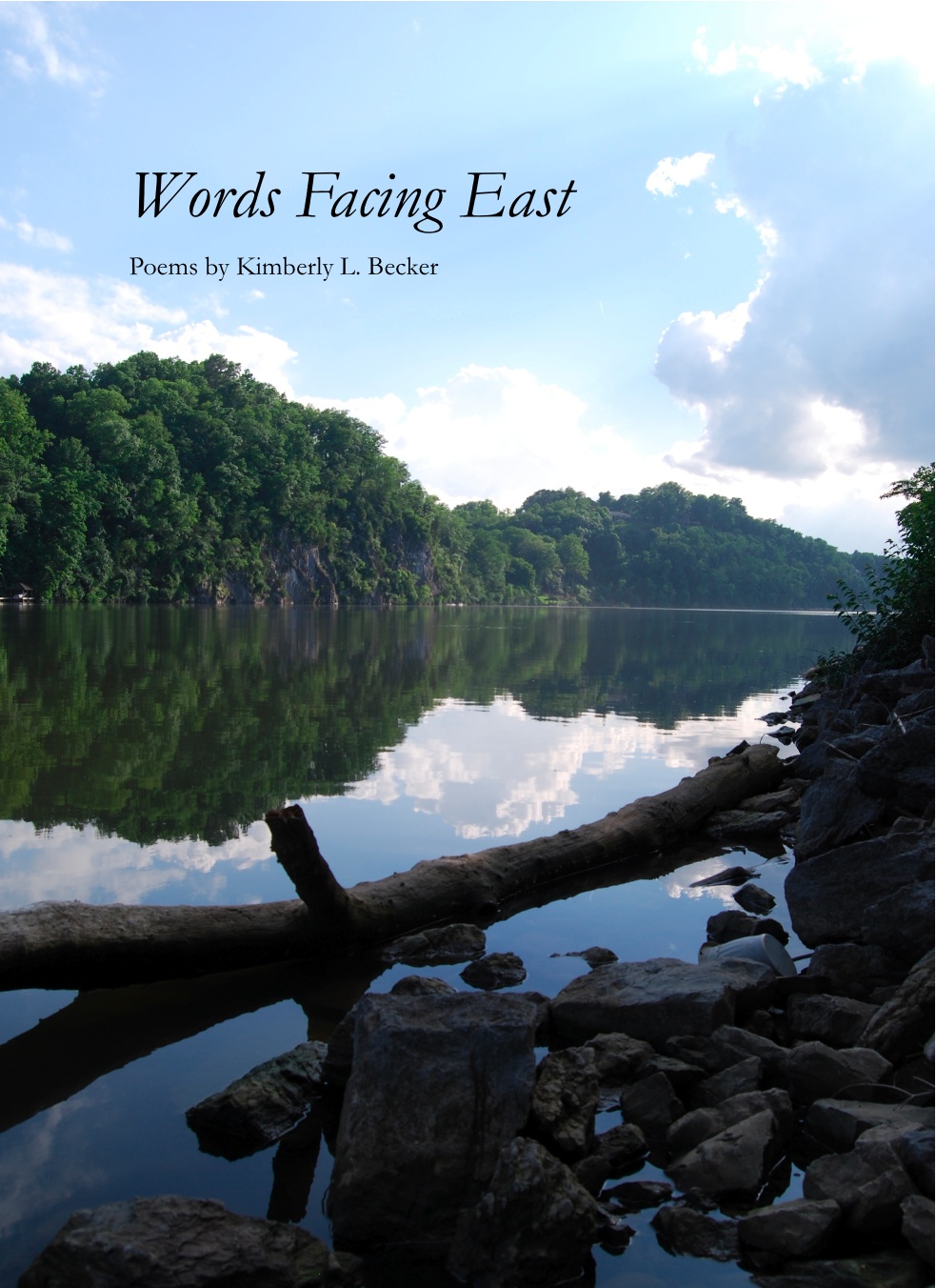 In Words Facing East, poetry performs a ceremony over loss, while celebrating what endures:
I walk along the Tennessee,
Following the bend
Elemental stillness of the stones
Calm of water, dammed to winter level
I detour through a corridor of cedars
Then come upon an ancient burial mound
A jogging path's paved over it
But I choose to walk around
Something should remain sacred,
Some solemn ground
Sample Poems by Kimberly L. Becker
"In Words Facing East, Kimberly Becker aligns us with rose lines, ley lines leading language reclamation along the riverway serpent she locks onto with the subtle force of finding her natural family course after lifetimes away. Sharing her personal return to unknown lineage, she affords the reader personal passage into a newly coddled mind aligning itself with genetic propensity, all the while bursting verse & song. Here, the nature of the poet places a pathway to rekindle, regard, reawaken all that's sleeping with recurrence of knowns and held blind memory. In the reaching, Becker gifts the reader with narrative passages into lyric dawnings. Her light step is delicate recommence, a beautiful journey. This collection is a must read for anyone born to stone. Its homing device brings us to the rivers of our births, replaces the stone at river's mouth, gives us language, frees us. Becker's debut volume is the call of bone to sinew, a necessary leap."—Allison Hedge Coke
"How perfectly titled Words Facing East is, for Kimberly L. Becker's poems reflect the unconquered spirit and eloquence of Eastern Cherokee descendants. Kimberly L. Becker has taken personal Trails of Tears and with her poetry transformed them into Trails of Strong Light and Homecoming. Here is brave poetry that soars and speaks not just to Indian people but to any human being who is yearning for homeland."—Susan Deer Cloud
"Kimberly L. Becker's poems remind me of the throb of crickets on a warm North Carolina night. They sing the resistance of Kituwah, the reclamation of words and places stolen and hidden, the joy of coming back to ourselves and our communities after generations away. Each of her words are 'rivulets/ towards home' that face us towards the first light of the sun with an offering of song and a prayer for healing."—Qwo-Li Driskill
"Kimberly L. Becker's poems explore the mystery of blood, and how the multiple strands of identity can reside within 'conquering consonants.' As she embraces longing and loss, her poems transcend the limits of language, and thus are able to move with beauty and grace between 'the now of then and the now/of not yet.'"—Kim Roberts
Kimberly L. Becker, of Cherokee/Celtic/Teutonic descent, is a member of Wordcraft Circle of Native Writers and Storytellers. She has been awarded a grant from the Montgomery County Arts and Humanities Council (Maryland) as well as a fellowship for a residency at The Hambidge Center. Her poetry appears widely in journals and anthologies. Please visit her on the web at www.kimberlylbecker.com.
ISBN 978-1936370177, 96 pages, $18.00