Poems from Paradise, Poems by Wendy Barker

Like the white space in certain paintings, silence itself has meaning in Wendy Barker's spare, elegant lyrics.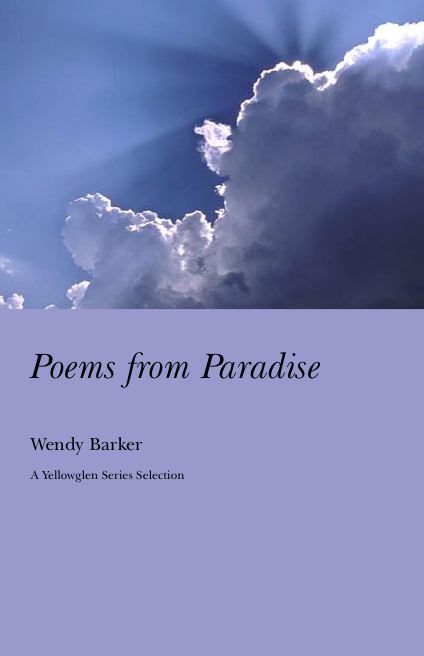 Sample Poems by Wendy Barker
"Possibly the most sensuous and erotic love poems I have ever read. Their movement is like Debussy's Le Mer, inevitable, exquisite. A verbal ecstasy, a slow recitative, a powerful passion."--Ruth Stone
"Wendy Barker's new poems, with their lovely Eastern flavor, are stripped-down, naked little beings who've taken off their Sunday best and gone skinny dipping in the rock quarry of desire. They are as immediate and unexpected as a momentary touch and as memorable as the slow-motion, other-worldly, full-body massage of their underwater aquamarine silence, thus living up to their namesake, Poems from Paradise."--Jack Myers
"Wendy Barker's deft and tender Poems from Paradise are poignantly hushed, as if they were echoes of the words lovers once spoke in that Edenic place where ´we did not think in halves.' And like echoes, too, they linger, dissolving boundaries between then and now as they make a haunting past into music."--Sandra M. Gilbert
Wendy Barker is the author of three previous books of poetry, Way of Whiteness, Let the Ice Speak, and Winter Chickens; a chapbook, Eve Remembers; and a selection of poems accompanied by personal essays, Poems' Progress. Her translations (with Saranindranath Tagore), Rabindranath Tagore: Final Poems, received the Sourette Diehl Fraser Award for Literary Translation from the Texas Institute of Letters. As a scholar, she is the author of Lunacy of Light: Emily Dickinson and the Experience of Metaphor, as well as editor (with Sandra M. Gilbert) of The House is Made of Poetry: The Art of Ruth Stone. Recipient of NEA and Rockefeller fellowships as well as other awards in poetry, including the Mary Elinore Smith Poetry Prize from The American Scholar, her work has been translated into Hindi, Japanese, and Bulgarian. A Fulbright senior lecturer at the University of Sofia in 2000, she is a professor of English at the University of Texas at San Antonio.
ISBN 1932339892, 80 pages, $17.00